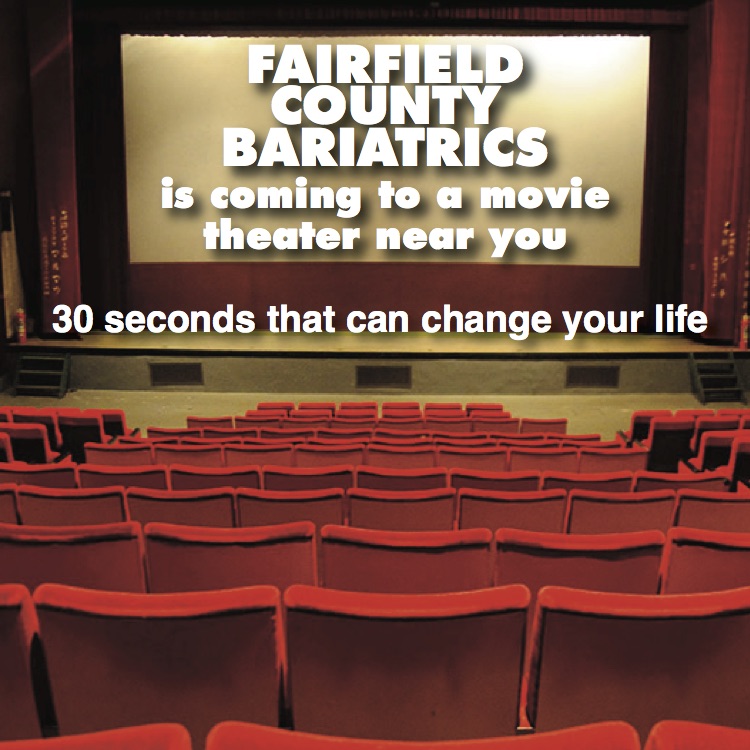 Fairfield County Bariatrics is going back to the movies again this year and you are once again invited to join us. Starting on December 20th we will be appearing on screen at the following theaters:
Marquis 16, 100 Quarry Road, Trumbull
Bridgeport Showcase Cinemas, 286 Canfield Avenue, Bridgeport
Landmark Square 9, 5 Landmark Square, Stamford
Fairfield Cinemas at Bullard Square, 40 Blackrock Turnpike, Fairfield
Regent 6, 54 North Main Street, Norwalk
Royale 8, 542 Westport Avenue, Norwalk
Majestic 5, 118 Summer Street, Stamford
Wilton Cinema 4, 21 River Road, Wilton
Criterion Cinema at Greenwich Plaza, 2 Railroad Avenue, Greenwich
Rave Cinemas Connecticut Post 17, Connecticut Post Mall, 1201 Boston Post Road, Milford
Spending 30 seconds with us at anyone of the theatres can be a life changer. We hope you will be able to find some time to join us with your family and friends.
See you at the movies!