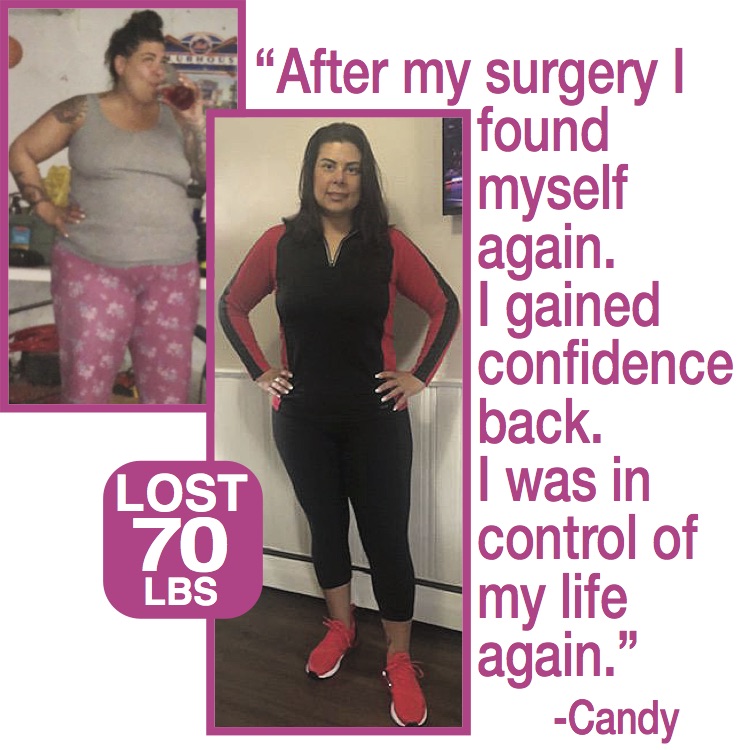 I had gastric sleeve surgery on August 28th, 2018 and I've lost 70 lbs.

I've tried every diet out there; Jenny Craig, Weight Watchers, and Medi Weight Loss Centers. I even tried my own regimen over the years I found myself just in this yoyo dieting cycle.
I would lose a few pounds and then gain it right back. I lost hope. I started to stress eating; turning to food for comfort not realizing how bad it all had gotten for me. Food had become the controller of my life.
I had no desire to go out in public. I was ashamed of the way I felt and how I looked. I became someone I never thought could be possible. I heard about weight loss surgery. Knowing I've never had any type of surgery before I was very skeptical about it because all else had already failed me. I decided to go to a seminar to get more information and on that day it is where I met Dr. Abe Fridman. The presentation he provided was genuine. The passion in his voice for how he changes lives every day gave me a reason to have something and someone to believe in. From the moment I walked in his office I felt as if I was the only patient he had to help. His undivided attention to my cry for help at the hardest time in my life was eased and assured. I was going to be successful in this process and I couldn't have chosen a better doctor to put my 100% trust in.
After my surgery I found myself again. I gained confidence back I was in control of my life again. I even started going back to the gym and before I knew it, I was feeling better than I've ever felt; going from a size 20 to a 10. Seeing the transformation before me was so motivating . I love shopping for clothes again. I enjoy going out and sharing my experience with others who notice the changes in me.
This is a life changing experience. I can't wait to see where this amazing journey takes me next. I really wanted to just share my life story so I can help others who are going through a similar life experience or who knows someone who is struggling with health issues and obesity, to never give up hope. Put your trust in the Doctors here and the entire staff at Fairfield County Bariatrics and Surgical Specialist. They helped changed my life. They can help save yours.