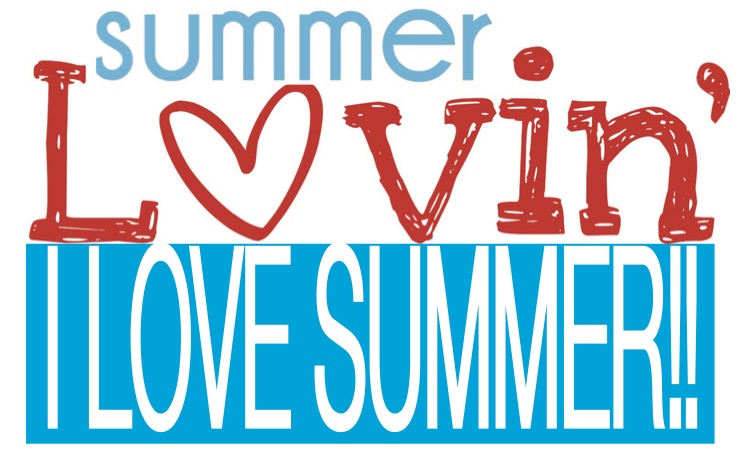 Dear Constant Reader (OK, I didn't make that up, I "borrowed" it from Stephen King), since I know you breathlessly anticipate each and every monthly tome.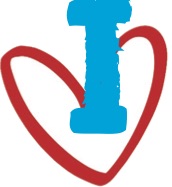 know you already know this but it bears repeating: I LOVE SUMMER!! The sunshine, the beach, golf, sitting outside, shorts, t-shirts (even though I wear shorts all year, so much so that my wife insists I dress like a 4 year old boy holding a balloon).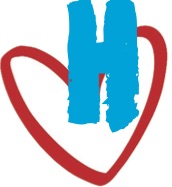 ave I mentioned I LOVE SUMMER? The only problem I ran into as the years went on, was that summer didn't necessarily love me, or at least the idea of a fat man in a bathing suit was not something that was a welcome sight. Not only that, but have you ever seen Jabba the Hut try to wedge himself into a sand chair at the beach? Forget the "sight,"it's near impossible. The remedy of course, was to get a larger chair, higher off the ground, heavier to carry, and harder to get into the car.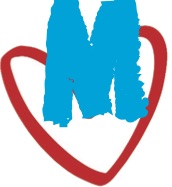 arketing is a funny thing. It makes it easy for the Blob to get such things, almost tacitly discouraging, a healthier alternative due to its ease. (Ever notice that "drive thru" places do not specialize in good food choices? Same idea). I had a chair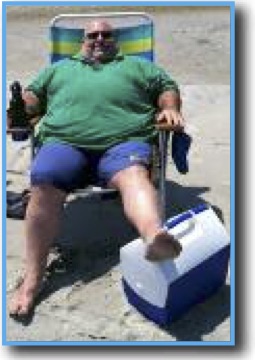 that was nicknamed "The Game of Thrones." Yes, I was ahead of the curve. The only thing missing was the collection of iron swords making it up. It came complete with a huge cup holder, and arm rests large enough to support a plate of fried chicken and potato salad, along with a mesh pocket just in case you wanted to put a bag of chips in it. You get the picture; right? Getting up was easy, sitting down easier still. Why get up since everything was at hand? 5XL bathing suits that easily could cover half the Goodyear Blimp; great beach wear.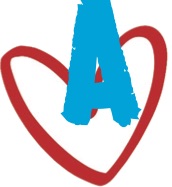 funny thing happened, in 2014, my daughter in-law brought my two rambunctious granddaughters to the beach and I realized I had zero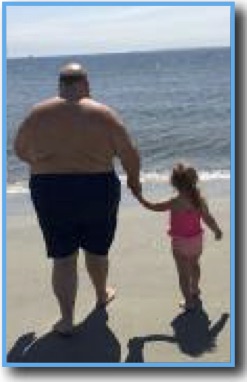 shot of keeping up with them. In fact, only one time did I accompany the older of the two down to the water's edge. It was one of the many great awakenings that then caused me to change paths and take the best journey ever; sleeve surgery.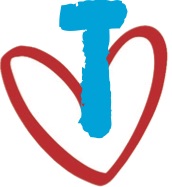 he summer of 2015 was more the "bummer" of 2015. Surgery was scheduled for late July. My trips to the beach consisted of taking protein shakes and getting ready. August 2015 post surgery; I was even unable to spend time in my beloved salt water.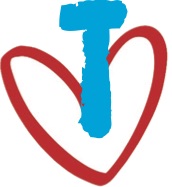 hen came the summer of 2016…140 lbs less by that point (I was 378 at my apex). No more "Throne." Now, a normal Tommy Bahama chair; small, easy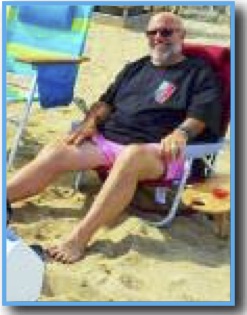 to carry and store. Yes,it has a cooler and a pouch, but they're on the BACK of the chair. You have to get up to access them. Yes, it has a cup holder, and it easily fits a 16 oz. bottle of water. No more 5XL suits; now size 38-40 Board shorts (something I had been unable to even find since the late 70's).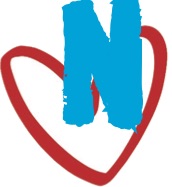 ow every beach trip is punctuated by multiple walks and at least one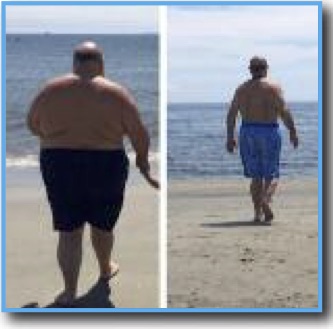 long run, and yes, I can now keep up with all four of my granddaughters.
I LOVE SUMMER!!
Kevin Fitzpatrick, Dr. Neil Floch's gastric sleeve patient with 185 lb.weight loss