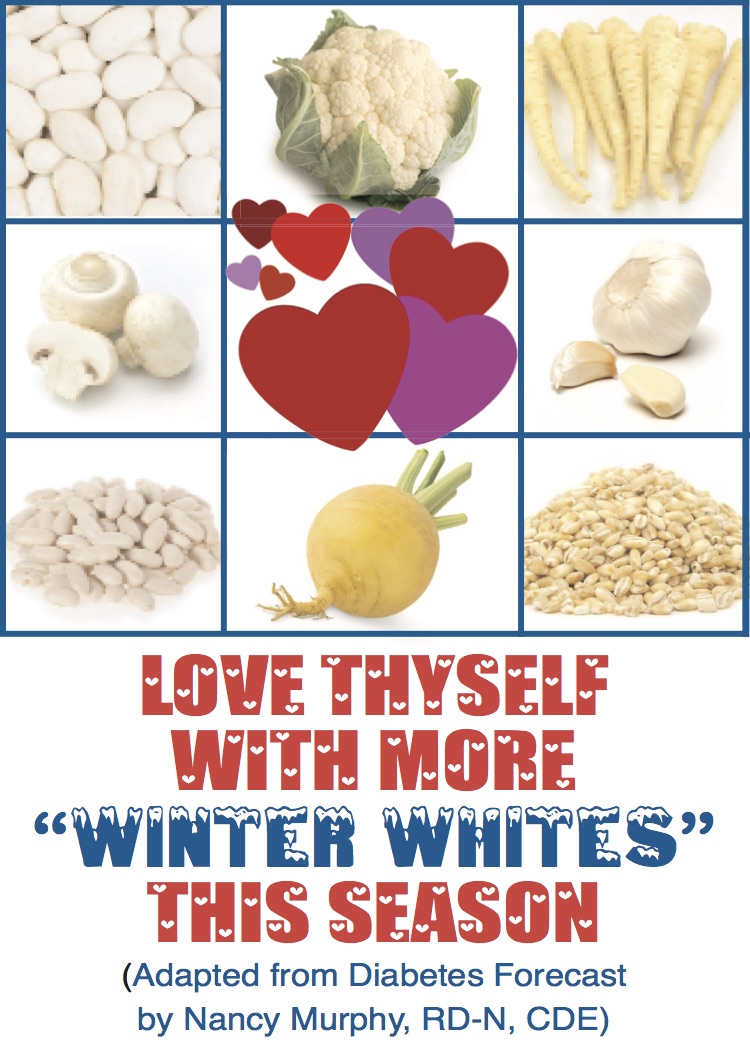 In the world of healthy eating, white foods are given a bad rap. White flour. white sugar, white rice, white bread and even white potatoes are often revealed as the evil counterparts to their whole grain relatives. But while foods that are light in color as a result of processing, polishing and refining can be lacking in nutrients and fiber, lets not ignore those that are "white by nature." Cauliflower, navy and lima beans, parsnips and garlick may lack pigment, but can still shine as nutritional stars.
Cauliflower and turnips are members of the cruciferous family and may offer anti-cancer benefits and when mashed, can act as low carbohydrate alternatives to potatoes. Water-laden mushrooms contain a high amount of potassium and add a wondeful earthy flavor to soups and stews. Barley and many of the white legumes (cannellini beans, etc.) offer heart-healthy soluble fiber, protein, potassium and a creamy satisfying quality to a meal. As yams and sweet potatoes vie for the limelight, please remember that even our "kicked to the curb" white potato offers a nice sampling of vitamin C, potassium and fiber when eaten in small amounts (and AFTER YOUR PROTEIN). Parsnips, like carrots add a bit of sweetness and fiber to soups and stews. And, who doesn't like some heart-healthy, anti-everything garlic in a sauce, stew, soup or other recipe?
As successful bariatric patients, it is okay to reflect on some of the foods you have given up or learned to do without but rather than mourn the loss of these foods, resolve to try new and improved "fuel" that suits the new and improved you. This season, don't judge a book by it's cover or a food by it's color. Add winter whites to your palate and your plate!
The following "white" recipe (Eating Well: February/March 2005) has been modified to make it very "bariatric-friendly."
Makes 4 servings, 3/4 cup each
Ingredients
• 8 cups bite-size cauliflower florets (about 1 medium head)
• 4 cloves garlic, crushed and peeled
• 1/3 cup non-fat buttermilk
• 2 teaspoons extra-virgin olive oil
• 2 tblspn 0-1% fat plain Greek yogurt
• (optional) snipped fresh chives or scallions for garnish
Preparation
1. Place cauliflower florets and garlic in a steamer basket over boiling water. Cover and steam until very tender, 12-15 minutes. (Alternatively, place florets and garlic in a microwave-safe bowl with 1/4 cup water, cover and microwave on High for 3-5 minutes.)
2. Place the cooked cauliflower and garlic in a good processor. Add buttermilk, olive oil, Greek yogurt, salt and pepper. Pulse several times and then process until smooth and creamy. Garnish with greens (chives or scallions) if desired. Serve hot.
Nutrition
Per serving: 80 cals, 3 g fat
10 g Carbohydrates (4G fiber)
5 g Protein